The final ride of the camp is a climb up (and of course, a blazing fast descent back down) Haleakala – the dormant volcano that dominates the island of Maui. The route from Paia to the summit runs 56km and climbs 3000m. It's known as the longest, steepest paved road in the world. And it's one of the most challenging bicycle climbs. It starts in Paia at sea level. Sunny and warm with locals and tourists wandering the main street. We unloaded at Maui Cyclery and were met by another pro cyclist, Juan Antonio Flecha!
He finished the pro season and headed straight for Maui for some riding, surfing and relaxing. On this morning he was going to ride up to 6000 feet with us. Sure – just your average everyday ride up a volcano… that's what all the pros do on their vacation. Thankfully Tyler and Ryder were riding over from the hotel – adding an extra 90 minutes to their ride. At breakfast Tyler told me that their plan was to catch us right at 6500 feet. I wanted to do everything I could to be well ahead of them!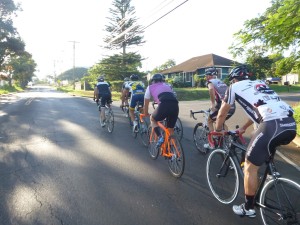 The first part of the ride was pretty easy – riding along in the group at a steady 17 km/h. Once we got to a steep section in Makawao I decided to make a surge and try to breakaway from the group. At first I thought my move was in vain but by the top of the section myself and another rider were clear of the group. We continued together for a kilometre or so before he lost my wheel on a technical section just before we joined the Old Haleakala Highway.
It's at this point of the climb that my mind started to wander… and I had a hard time determining whether the road was going uphill, downhill or if it's flat? It's crazy how it (Haleakala) plays tricks on your mind. The simple answer is that the road is always uphill. For the next 40 minutes or so I pedalled along by myself. I caught a couple of our other group riders who had started early to get ahead. That felt good and encouraged me to keep going.
As I neared 5000 feet the group of former pros caught me. I stuck on their wheels for a bit but had to drop off to avoid driving my heart through my chest and out onto the road! I continued along by myself in a silent race against the clock and one other rider in our group. I don't think he knew I was using him as a target. Or maybe he did as he seemed to speed up every time he was able to see me on one of the switchbacks!
As we closed in on the 6500 foot stopping point I was happy that Tyler and Ryder had not caught me. And I pointed this out to Ed, one of our support drivers, as I pulled off the road. Ed quickly corrected me and said, "they caught you. Look over your shoulder." Doh! They were right behind me, catching me almost exactly at 6500 feet as planned. Pro. (Side note: Tyler and Ryder finished the climb in 3:03 and it was an easy ride, with a stop of at least five minutes with me to have a Coke and some food. The winner of Cycle To The Sun this year did it in 2:54.)
From 6500 up the road gets steeper and you enter the National Park, requiring a payment of $5 at the gate. The lower part of the road through the park is really nice. Terrific pavement, nice views, etc. As you climb higher the road surface deteriorates a bit, and the landscape quickly changes from lush and green to something resembling the surface of the moon. It's at this point that I started thinking about the magnitude of the explosion that created this mountain of debris. It's mind-blowing.
Somewhere close to 8000 feet – where the thinner air starts to noticeably impact performance – Greg (a former pro racer) dropped back to ride with me to the summit. It's amazing what a difference it makes having someone there with you. We rode the final few switchbacks together and made a final push for the top. Greg's once-a-week-ride-to-the-top training really pays off on the final ramp up to the summit. It's the steepest section of the climb, and at just about 10,000 feet it's the most difficult section too. I was cooked and could barely turn over the pedals, while Greg steadily pulled away from me. A slightly disappointing end to an otherwise terrific climb.