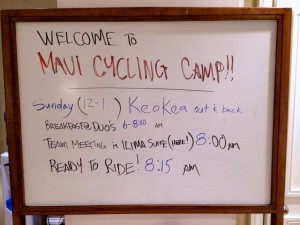 This is how the plan for the day is presented. It really needs to be more detailed – in the way that explains that the downhill portion of the ride is tons and tons of fun. The uphill portion, in the searing 40 Celsius heat is not. Other than riding directly on the surface of the sun, I cannot imagine it being any hotter. The first 32.5km were amazing. Flying downhill chasing Tyler Farrar was a real thrill. The next 32.5km were gruelling. 40 Celsius. Uphill. Ugh. My adventure in a solo breakaway yesterday came back to haunt me today as I really did not have the legs to climb. So it goes… (Here's my ride profile on Strava and Garmin Connect.)

And I had to ride a rental bike because the derailleur hanger on mine somehow broke last night. (I think it must have gotten damaged during at some point in the last month, and the hard ride I did yesterday, with a few hard shifts, pushed it to the limit. The club mechanic noticed it wasn't aligned and attempted to fix it – but it snapped off in his hand.) In many cases this is a minor issue and the local shop can fix it or order one in for the next day. Since we're on an island in the middle of the ocean the ordering process is a bit different – the cost to get a single piece here overnight is crazy high… So today I rode a Felt with DI2. A nice bike but it didn't fit very well and as a result I'm suffering from some chafing.
Overall the day was terrific. Great roads, great people, great weather. Looking forward to more fun tomorrow!