The East Maui Loop. Epic. From start to finish today was awesome. We loaded into the camp vehicles and made the half hour drive into the Upcountry (a few thousand feet up the side of Haleakala along the Kula Highway). From there we loaded up our bikes, put on our shoes and started the ride. We headed south and downhill for roughly an hour. The road surface is perfect – dry, fast, flowing. Much like a roller coaster ride. At what most folks would consider the end of the road we stopped for a refuel. This is when Donnie suggested that we only go with one water bottle until the road turns back to pavement. The road is too rough and the bottles will rattle out of the cages. He's right. This is the beginning of the Hawaiian cobbles.
Ten miles or so of the worst road I've ever ridden. Seriously at what point do they decide that it makes more sense to just tear up the pavement and leave it as a gravel road? The potholes and the filled in spots are far more common than the actual paved sections. The road was so rough that my cleats shook loose from my shoe! And another rider had his DI2 connectors come loose inside his hoods. He was stuck in a really big gear for a stretch. Not pleasant on a flat road; terrible on this "road".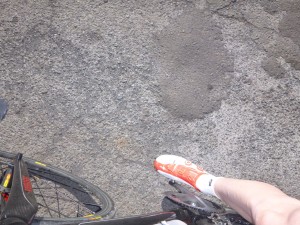 Not only is the road rough it is hilly. A number of twisty steep climbs – 18% steep – made it a real challenge. And the downhill sections are no easier. Bouncing over the road surface while trying to avoid the unpatched potholes, and keep your eyeballs from bouncing out of your head is a unique challenge to say the least. But it's one that I enjoyed much more this year than last.
Eventually the "paved" road ends and becomes a very nicely paved road… for about 500 metres. It's at this point that a large black cow joins our peloton. Yes – a cow. He (or she) sprinted along with us for 100 metres or so before turning back to where she came from. It was surreal.
After the nice pavement stretch the road turns to a loose gravel and dirt single lane roadway. In most cases folks riding skinny-tire bikes avoid this type of road at all costs. Having ridden this route a couple of times now there really isn't any reason to avoid it.
And if you get to Maui, ride this road. (But make sure you have a support person or team with you as you are a long way from civilization. Or better yet, get Donnie and the team from Maui Cyclery.) The scenery is incredible, and the route that the road follows along the coast is amazing for cycling. We continue as a loose group through the backside of Haleakala National Park and eventually arrive in Hana. From here we follow the Hana Highway back to Paia – awesome. I felt terrific today – back on my Vitess and it made a huge difference. I rode with the pros until they dropped the hammer at the 110km mark. We had a 10 minute descent that blew my mind; I did it last year but it was raining so the experience was more one of survival than excitement. Today the roads were dry and Ryder and Tyler were lighting it up. Carving lines through the corners I didn't think possible – but I followed anyway. Speaking with Tyler after the ride he said they were holding back because the roads are open to traffic and they are riding clinchers instead of tubulars. Pros.