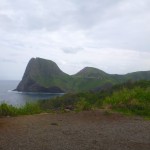 West Maui. Up. Down. Left. Right. Repeat for 40km. After a quick drive around the bay we started our ride in Maalaea. The first 40km or so is along the shoreline on a nicely paved highway with a paved shoulder. We cooked along in a double pace line letting Tyler and Ryder set the pace and break the wind for most of the ride. I rode directly behind them until we turned off at Lahaina. I think a few of our campers are new to group riding, and being in the back didn't feel safe. I was wearing my team Garmin shorts and ECC jersey – and as a gap opened up between the three of us at the front and the rest of the group I felt like a real pro. When the pack caught up Donnie said it looked like a team ride, with me in a national champions jersey being protected by the others! Here's a video from the ride.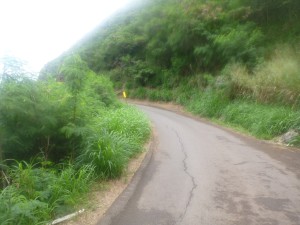 As the highway turned into a country road our group took a final rest stop to fuel up and fill our bottles. The next hour of riding was incredible and challenging. The road follows the gnarly coastline in and out, up and down, and never flat or straight. It's a real thrill to ride.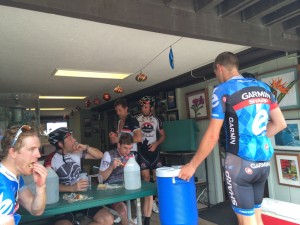 Three quarters of the way around we descended into a little village where we had shave ice, banana bread and a Coke. Just what we needed to tackle the 15 minute climb out of town. The road surface for the next 10km is awful. Potholes, cracks, stones and other debris, etc. it's a challenging stretch but you rewarded with a terrifically fun descent back into civilization. We regrouped at this point and pacelined it south across the island. Tyler and Ryder battled with a few sprints – leaving the rest of us gasping for air. And me lamenting the compact crank and climbers cassette on my rental. The group reformed and the kilometers passed quickly on the way back to Wailea. Seamus paced us in at a steady 37km/h until the final climb and hotel were in sight. You could feel the tension as riders started jockeying for position at the front. We're not here to race but the competitive streak is strong. I didn't want to get caught in the sprint so I dropped to the back. At this point one rider took off from the front prompting some jeers from the pack. He got a sizable gap and looked set to take the "win". And then the paced quickened. The pros can amp it up fast. At this point I joked with Andreas that I should take a shot for the win. After all I was wearing my ECC jersey and established on day one that I was a breakaway rider. So I geared down and gave it all I had… Forgetting that there was one more climb before the finish. I bridged to the first guy and passed him as he looked over the wrong shoulder to see me coming. As I rounded the final bend I saw the hill and looked back. Ryder was in full flight. Uh oh. Had there been 5 more metres of road he would have caught me – but today was my day.
At lunch I sat with Ryder and Tyler and had a really great discussion a out life as a pro, things we've seen in the news about them, planning for next season, Vaughters, Tom Boonen, speaking Flemish, and more. It was a great way to finish the day. As an aside… I mentioned to the pros that there is a segment of cyclists who think wearing team kits is ridiculous unless you are a paid pro. Tyler's reply was, "No one thinks it's wrong for a Seahawks fan to wear their jersey. Why is cycling different?" He also talked about training in Belgium where almost every amateur rider is out in a full-on Quickstep kit on every ride. It's their home team. Tomorrow I'm rockin' my full Garmin kit. And will get a team pic.