Got up early after a late night. Dinner at excellent pizza place. The only downer was that they were out of their famous chocolate lava cake by time we were ready for dessert.
Up at 5:30
Breakfast at 6
Bus at 6:30
To unnamed town. Only later did we discover it was the outskirts of Toulouse.
Ride bike path "30k" to see Le Tour in Verdun-sur-Garonne. This turned out to be a terrific bike path – almost dead-straight with very little in the way of elevation changes. It was a 40k ride instead of 30k – OK with a few of us but not everyone. The bike path flanks a canal complete with house-barges! A few of us rode at a fairly brisk pace for no real reason other than we could. The only negative of this brisk pace was the amount of road debris that was being thrown up by our tires. The trail was littered with sand and bits of tree bark!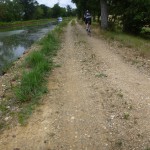 After Le Tour passed we were told to ride back to the "bike path" for another "10k or so" to train station in Montauban. The 10k turned out to be more than 25k – not an issue for some of us but definitely a problem for those who left the bus in the morning prepared solely for a total of 40k of riding. The bike path proper ended about 6k down the canal from where we started. At this point the path disintegrated into a terrible road suitable for four-wheelers and tractors; not carbon fibre road bikes! Three folks had flats which resulted in our group having to rush to catch the train instead of being able to take it leisurely.
Ride leader didn't know route. Multiple flats because of terrible condition of trail surface.
Once at train station there wasn't space for all bikes in vans do some had to take them in the train. Train is packed, no seats despite prepaid tickets. Standing room only meant some folks had to leave their bikes on platform with other ride leaders.
The "plan" was to take the 1:56 train from Montauban to Souillac to see the stage go by again. Dumb plan with small benefit at best. The train arrived late and the Tour had already passed. So we walked 2km into town to stand around while a new "plan" was made up on the spot. Contingency is a foreign word.
After disembarking the train – which arrived about 20 minutes late – we walked into town. Had we been on time we would have seen the Tour ride past again. But we didn't. So we grabbed a couple beers and some food. Back onto our bikes for a scenic 28km ride to Sarlat. A few kilometres into the ride I found myself about 200 metres in front of the group. A couple from Colorado were at the front of the peleton and I thought they would give chase. (All week they had been trying to go hard with us so seeing me out front I thought would definitely elicit a chase.)
Instead a strong rider from Montreal, Robert, bridged the gap and told me he wanted to ride. He said, "We go fast now, yes?!?" So I dropped a couple gears and hammered it. We worked like a perfect breakaway and before we knew it the peleton was out of sight. We followed the route on my Garmin to Sarlat and climbed another 1500 metres or so, tackled a triple series of hills at 24%, 16% and 19% back-to-back-back, before slogging up a 2.8km 7% climb. It was amazing. This part of France is stunning and one that I was completely unfamiliar with – definitely deserves a return trip.
We arrived in town much earlier than the rest of the tour – so early that Robert and I were able to check-in, get the luggage to the rooms, change into our swimsuits and go for a swim. All that time over a 29km stretch. Robert and I were smokin' fast!
Steve rode with the peleton and finished his week of riding on a high note. The scenery along the route was impressive – castles, chateaux, historic towns, abbeys, etc. And a 100+ year old rail right-of-way turned bike path – complete with 20 foot rock walls overgrown with a century of ivy, moss and more.
It was a day of highs and lows as we had some great riding but we also had to pack up our bikes. The tour is almost of over – for us and the riders.
After packing up our bikes and getting cleaned up we met for dinner at an absolutely amazing restaurant. The dining room was an old cellar with an arched ceiling and iron gates – surely it was a room used to keep people in, or out of back in its heyday.
Post-dinner we hit the town for a drink with some folks from the US group on our tour and then rolled into the hotel at the ridiculously late 1:45am!