Up early and checked out of our hotel. We were driven to the Team hotel for a surprise: the Team bus will be driving us to Arenberg! And the Team videographer/photographer would be along to document our adventures on the cobbles of Roubaix! We are really loving the pro experience. Wow. Rolling down the highway, on the Team bus, was a really cool experience. I know it's just a bus but it's a bus that most folks never get to be on, and to have it, and the support staff, just for us, was a real thrill for this cycling fan.
At Arenberg we took some photos of the famous stretch of pavé, I rode a bit of it – I couldn't pass up this opportunity – and then we rolled out into the French countryside. Our route today was a 10km stretch along the roads before joining the route for Paris-Roubaix and tackling the cobbled secteurs. The first secteur of cobbles came after roughly 10km. It was a real challenge. Unreal. And unbelievably hard. My appreciation for the speed and skill of the pros grew dramatically.
For the next 55 km my body was subjected to the most gruelling riding I've ever done. Many of the secteurs are barely passable with a farm tractor, let alone a skinny guy on a carbon fibre road bike! The gaps between the cobbles are made for eating narrow road bike tires, and I think they have an appetite for carbon and skin!
Mercifully our ride finished and the Team bus was there to pick us up. Again, having a Team bus and support staff is an incredible asset. I simply hand off my bike, climb the steps into the bus and laid down for a rest. The crew took care of my bike, brought me food and water, etc. Wow. Pro.
We were then driven to our new hotel for the next two nights. A beautiful old farmhouse and stables that has been converted to a quaint boutique hotel.
Arien – our exceptional guide – made us a fantastic picnic lunch that we enjoyed in the sunshine. After lunch I sat on the grass and chatted with Hasan (one of the other tour members) for an hour. It was a great way to wind down from our morning adventure.
For dinner we went into Lille to a restaurant called "La Cave Aux Fioles".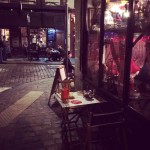 The city of Lille is quite beautiful – narrow cobbled streets lined with unique looking buildings, grand squares surrounded by grand buildings, etc.The restaurant fit this aesthetic perfectly.
Inside there was a roaring fire, and an atmosphere that was fitting to our experiences of the day. Simone (Cannondale soigneur) and Matteo (Cannondale mechanic) joined us for dinner. We laughed, ate, and drank well into the night…