After an enjoyable overnight flight on Jet Airways – they've got the coolest in seat entertainment system I've ever seen – I arrived in Brussels. I hoofed it through the terminal to customs. Through customs and the first bag on the first belt was mine. I grabbed it and headed for the train station. I wanted to get a  SIM card but the convenience store didn't have what I needed. My plan was to go into Brussels on the train and get one there but the girl at the ticket wicket said I should take a different, faster and easier route to my final destination of Kortrijk. So I did. And it was super easy – and I arrived nearly an hour ahead of my schedule. Thankfully the folks from Cannondale showed up within minutes of my arrival. Simone (our soigneur) and Ariens (our guide) pulled up in a Team Cannondale van, decked out in Team Cannondale gear. It was at this moment that my excitement took over. I knew I was in for a great experience.
Simone drove me to our hotel where I settled in before meeting for a group lunch. After a great lunch we met our mechanic, Matteo, and our bikes. The awesome Cannondale Synapse High-Mod. These are team bikes – bikes that are ridden by riders who aren't racing this week. Complete with SRM power meters. We truly are part of the team on this trip. It is amazing.
The ride for the day was an easy spin to clear the cobwebs and shake the jet lag – I was on Toronto time, six hours off, and going on less than two hours of "sleep" on the plane. The ride was needed and appreciated.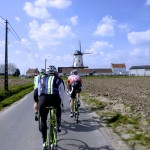 We rode along a canal, through medieval gates, past a windmill, through farm fields, over the cobbles, down country roads that you'd swear were bike paths and not full-fledged roads, and checked off many of the highlights of Belgian cycling. And this was just on our warm-up spin!
After finishing our ride we settled in to a patio for a drink and some conversation. Ariens laid out the plan for the evening – dinner with Team Cannondale after their one-two finish in the race today! Very cool.
After showering and getting dressed we boarded a Team van and headed to dinner. Parked in front of the Team hotel are all of the Team vehicles. Christophe from Team Cannondale introduced us to the support staff and led us on a tour of the equipment truck and team bus. We sat on the bus and shared a bottle of champagne celebrating the win – awesome!
Dinner was prepared by the Team chef – and he hovered around us while we ate ensuring everything was to our liking. We were really part of the Team, getting the Team treatment! The Team riders came down for dinner and introduced themselves to all of us, and chatted freely with us, as did the support and management crew. Lots of photos, autographs, conversation, etc. before we headed back to our hotel for some much needed rest.
<iframe height='405′ width='590′ frameborder='0′ allowtransparency='true' scrolling='no' src='http://www.strava.com/activities/125907666/embed/9fd946b0c69488937b8d4ac0d3b2c59d001576ae'></iframe>